I feel like I am stuck in my place of life, stuck in my relationship problems, stuck in a way that can't ever be solved. That is when I close my eyes for a few seconds thinking I might sleep, but it is the time of early evening when I should not sleep because it will bother my night's sleep. So I open up a little and think I am stuck again. I feel stuck in a moment, in a place, in a condition, in a way of interacting. But what I have been doing might be feeding the rut. At least in part, when I stepped away from online activity for about a week, a week ago, it felt good. I need to not go through the agony I must inflict on others when I say I am done for good with phone and computer, but it feels so refreshing to tone it back to almost nothing. What if I just checked phone and computer one time a day at a time of day that would do less harm. Noon comes to mind. That way I could enjoy the energy of my mornings and hibernate for a set allotment of time for a screen siesta, that had a limit on the amount of time I spend and was required to end within an hour, the less time the better. See, I am toying with needs I have, like community, connection, and creativity. In the feeling of rut I feel in deficit in these needed virtues, and I think that I feel overall better when I tone down my use of computer and phone. One thing that has been coming up, oddly, is the remakes that have been being produced in mass, like the remake of the Lion King. I think of myself as a different type of creator than fiction generally, but I think the spark that exists in fiction is a wild type of creativity, and it exhibits brilliance in a way that I would love to be more creative in that way. I have so many creative ideas that have been dying, flames have been going out every time I watch a cool Netflix sci fi show or get immersed in thinking about democratic candidates. Broadly the rut is that I don't feel I am living a fulfilled life, but being a person who sees myself as valuable largely because of creativity, it feels sickening to have on the phone or computer when I can identify it as an inner problem in my creating. If I could go deeper into some creative projects right now, and see them through more in depth to completion, that is the goal for now. I might feel in anguish because work is not working or community is out of sight, but I can find community if I come into my porch or the YMCA happily. I must be happy though for anyone to really want to talk with me. Part of that lately has been swimming in the pool, which helps build up my emotional well being. I have been doing more swimming, but my creative projects are just standing rough drafts. My Koan Field Guides have been sketched out, preliminary, but I fell into a hole of Netflix for too long a time. Now it is time to return to Earth, to come back to where I am. Starting very soon I will just be limiting my device use to 1 hour a day or less at a set time. This will give the rest of my life room to stretch and breathe, to feel where I am, which is not a rut at all, but a wall that needs patched and a blank canvas painted, and a story written, and a poem lived.
Woke at 3:45 for a necessary poem, because of what stirred under it. Wrote a poem about a man I have probably lapped beside for 30 years. Wouldn't you love to see it?
Then rested in bed for an hour, and rose for the rising sun, before most of the birds even woke up. They are in a late summer mode. Spring birds rise much sooner.
Then I made eggs and coffee and worked on my Koan Field Guide to My Body, a Memoir. This is the most collected feeling works I have ever made! I am so proud of it's success.
Koan Field Guide to My Body, a Memoir started as these lines of memoir I just had to write down years ago. Eventually, I had written ten lines out, each on separate small pages, then I illustrated the happy childhood memories. Then, I put them aside for years to settle.
Now I have gathered the strain of thought I meant for it, and honored that theme in what I think will be a masterpiece, maybe my best ever.

But that might be enough gloating for one day!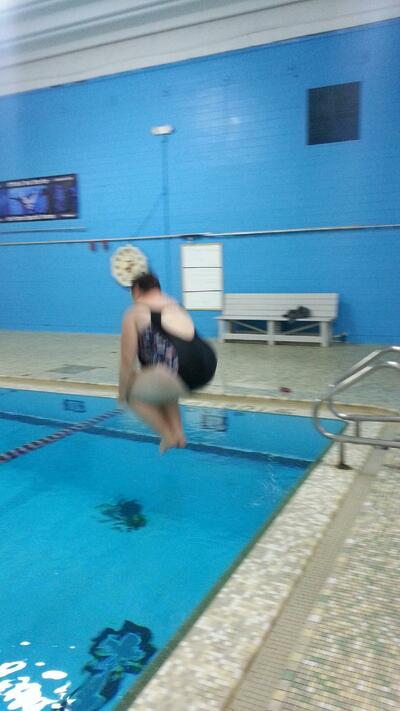 Except I wanted to add that it all comes around to the lap pool in a magnificent, much needed conclusion that might save my life, or prolong it tremendously. Goals have been established this morn.